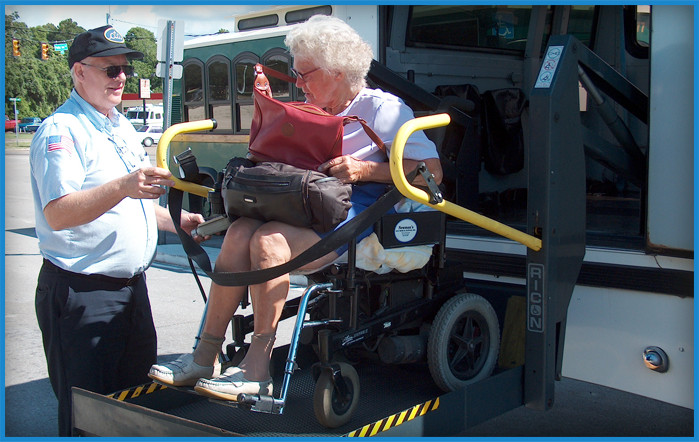 Hancock County Handy Ride Transportation Service
Available on Tuesdays and Thursdays
Handy Ride Transportation Service
Coast Transit Authority has an easy way for seniors and citizens with disabilities of Hancock County to get around by offering Handy Ride Transportation Service. Let us take you wherever you need to go!
How do you qualify?
There are three conditions that can enable you to use the Handy Ride Transportation Service.
1. Anyone who has certified to use ADA Para Transit is eligible. You must complete an application process to become certified.
2. Seniors over the age of 60 qualify for the    service.
3. Be a current resident of Hancock County.
That's all it takes!
Then What?
You meet the criteria for registering for the Handy Ride Transportation Service? If you do, you may call and register with a CTA representative Monday through Friday from 9:00am to 4:00pm at 866-206-8843.You must be registered to be eligible.
How it works?
Handy Ride Transportation Service is curb-to-curb (Door to door as needed). That means you must wait at the curb in front of your pick up point at the scheduled time for the bus to arrive.
If you need an attendant or a mobility aide; it's your responsibility to provide one for yourself. This includes finding someone to help you with packages, if needed.
Remember, CTA bus drivers are not trained attendants. You will find a detailed list of limitations affecting CTA drivers at the end of this section.
By appointment only 
You must make an appointment to ride the Handy Ride Transportation Service. Service requests are taken Monday through Friday from 8:00am to 5:00pm. Requests can be made the prior day to 14 days in advance. Please, do not try to set up appointments through the driver! You must call the CTA office to make an appointment!
If your travel plans change, you need to cancel your appointment at least one hour before the scheduled pick-up-time. You will be charged the $2.00 boarding fee if you fail to cancel in advance! CTA will mark you as a NO SHOW. Multiple no shows could jeopardize your opportunity to schedule future trips!
We want to make your ride the greatest thing going… But please don't ask us to violate safety rules!
Please be advised that this service is based on space availability and will not cross county lines. This service is only available in Hancock County. It is recommended that you schedule your trips as far in advance as possible.
The driver is not allowed to:
Go into the home to assist passengers
Push wheelchairs across areas that are not paved or covered with leveled concrete
Take a wheelchair off a raised porch which is not connected to a ramp
Pick up or lift wheelchairs, especially when someone is in it
Wait more than five minutes for passengers to board the bus
We at Coast Transit Authority take pride in what we do and look forward to serving the citizens of Hancock County!
Coast Transit Authority's Hancock County Handy Ride Transportation service is an affordable service for all Hancock County.
The Handy Ride Transportation Service is $2 per fare zone, so the total cost of a trip depends on where you are going. Fare Zone maps are available at the CTA office or the website.  Please have the correct change ready for the driver before you go.
All trips are pay-as-you-go. There is no credit line available.
Days of Service
Tuesday   9:00am – 4:00pm
Thursday   9:00am – 4:00pm