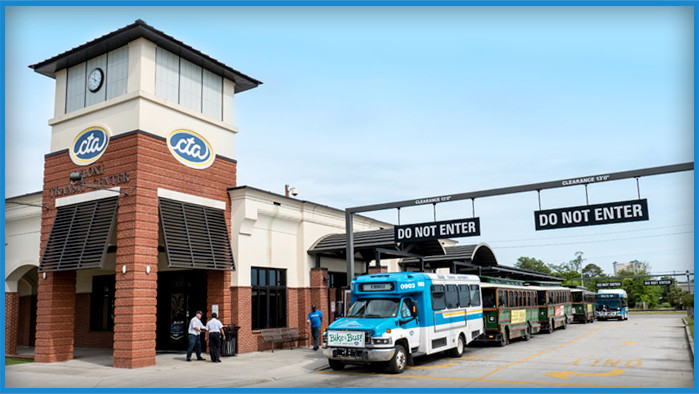 A Message from Kevin Coggin, Executive Director of CTA
Who is CTA?
CTA is a non-profit provider of public transportation for the three coastal counties of Mississippi. It is an independently managed public utility that is governed by a Board of Commissioners. It is the designated recipient of State and Federal funding for urban transportation on the Mississippi Gulf Coast.
The CTA Mission
To provide safe, dependable, clean, comfortable, convenient and affordable public transportation services to the Mississippi Gulf Coast in a cost efficient manner.
Types of Transportation Services Provided
Fixed Route Service: Consists of transportation service provided on a "hub and spoke" routing system that radiates out from transfer facilities. It is a system of designated routes, with designated stops and a fixed schedule. Various types of facilities are provided for passenger comfort and convenience. Passenger waiting facilities range from a simple bench with a bus stop sign to covered shelters to purpose built waiting and transfer facilities with public restrooms, phones and vending machines.
ADA/Paratransit Service: A curb-to-curb transportation service provided for persons with disabilities that are unable to access or use the Fixed Route Service. This service is provided for persons that are within a ¾ mile corridor of a Fixed Route. Access is provided on an appointment basis.
Special Services: These contracted services include programs that provide transportation for senior citizens to attend Senior Citizen Centers, grocery shopping, medical appointments and field trips, transportation for area nursing homes and transportation for persons with disabilities to attend work centers and field trips.
Service Area
The CTA service area consists of the three coastal counties of Mississippi and all the incorporated cities in those counties.
CTA currently provides Fixed Route and ADA/Paratransit Service in, Biloxi, Gulfport, Ocean Springs, St. Martin and D'Iberville. Special Route Services are currently provided in Harrison, Jackson and Hancock counties.
Funding
Funding for CTA's operations and capital projects are currently provided by self-generated revenue, the Federal Transit Administration, Harrison County, Jackson County, the City of Biloxi, the City of Gulfport, the City of D'Iberville, the City of Ocean Springs and the State of Mississippi.
Self-generated funds consist of passenger fares, advertising revenue, charter revenue, contract revenue, vending revenue and sale of surplus equipment. Federal Transit Administration (FTA) funding is provided in the form of operating (50/50) and capital (80/20) grants. To access these grants, either 50% or 20% local matching funds are required to be available. The State of Mississippi, Harrison County, Jackson County, the City of Biloxi, the City of Gulfport, the City of D'Iberville and the City of Ocean Springs provide funding in the form of operating subsidies.
Management
CTA is governed by a Board of Commissioners. The Board of Commissioners is responsible for establishing policy for the management staff. CTA's Board of Commissioners currently consists of nine members. Representing the City of Biloxi, the City of Gulfport, the City of D'Iberville, Harrison County and Jackson County.
The day-to-day operation of the authority is under the leadership of an Executive Director. The management staff consists of three Department Directors and two supervisors.
The Future of CTA
The general goals and objectives for the immediate future are to increase ridership, decrease operating expenses, increase self-generated revenue, establish a dedicated source of funding and establish employer sponsored employee commute programs.
Implement a new Marketing Plan that will increase ridership, public awareness and local and state financial support.
Rather than waiting for traffic congestion to choke the growth of the coast, CTA will continue to work with the cities, counties, planning agencies and local business organizations to complete implementation of Phase I of CTA's Park & Ride programs. In April, 2015, CTA opened the newest intermodal transportation center in the City of D'Iberville.  This facility will allow other routes to tie in directly with an area that includes downtown businesses and the Scarlet Pearl Casino.  
Establish the implementation schedule for Phase II of the Harrison County Multimodal Project, which consists of the construction of interceptor surface park-and-ride lots along the I-10 corridor at the major north/south connectors, and development of an enhanced express service connecting these lots to the entire transit system network via the transfer hubs in Biloxi and Gulfport.
Continue to purchase Alternative fuel vehicles, which will help to reduce the amount of vehicle emissions generated by CTA buses and enable CTA to be an effective partner in helping to meet regional pollution reduction objectives.
Upgrade general passenger facilities along all CTA routes by adding benches and covered shelters in needed areas.