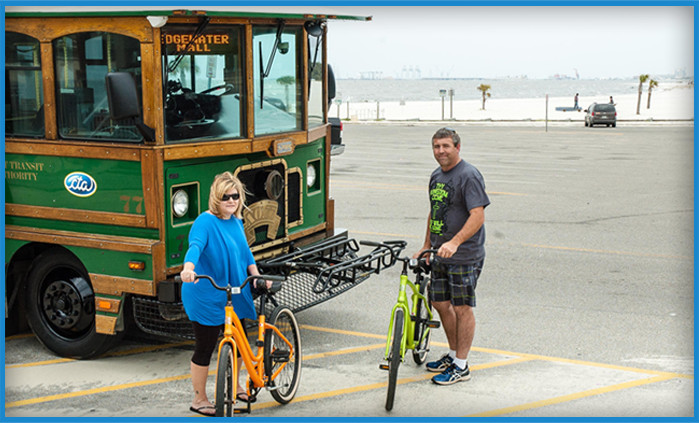 All Aboard for Bike & Bus!
CTA invites you to join the thousands of Gulf Coast cyclists who have enjoyed our Bike & Bus service. These front-mounted bike racks are readily accessible on all fixed-route buses, and Beachcomber and Casino Hopper Trolleys. The popularity of Bike & Bus racks has grown steadily over the years because they combine the convenience of riding the bus with the enjoyment of cycling. Every day, riders use them to go to school, work or play. The Bike & Bus racks are designed to securely accommodate most types and sizes of bikes, and make loading and unloading easy. Each CTA Bike & Bus rack is equipped to hold a minimum of two bikes, and there's no additional charge to use racks.
STEP 1: Get ready to load!
Loading your bike is easy! As your bus approaches, doublecheck to be sure all loose items on the bikes, such as water bottles, pumps and other objects that could fall off, are removed.
STEP 2: Let the driver know!
Signal the bus driver that you are going to load your bike. When the bus has fully stopped and the driver acknowledges your request, you can begin to load your bike – but always from curb side.
(a) Squeeze the metal handle on the bike rack to release the latch, and let the rack down.
STEP 3: Lock and go!
(b) Lift your bike onto the rack, and position the bike into the rack's wheel wells. (Please use the wheel well assembly that is closest to the bus if you are loading first).
(c) Then, raise and pull the support arm up and over the bike's front tire. The rack firmly holds the bicycle's tires only, no contact is made with the frame, which reduces any potential damage to a loaded bike.
(d) After loading, simply get on-board CTA and enjoy the ride!
When you arrive:
As you approach your bus stop, please remind the bus driver that you need to unload your bike.
Release and go:
(a) Raise the support arm off the front tire and lower it out of the way. Then, simply lift your bike out of the rack.
(b) If there is no other bike on the rack, please return the rack to the upright and locked position.
(c) Signal the bus driver that you have removed your bike and you're off!
Important Things To Remember
Bike & Bus service is available during normal hours of operation including evenings and weekends (may not be available when inclement weather prohibits safe use).
• Please make sure you read the loading and unloading instructions carefully as CTA bus drivers are not permitted to leave the bus to assist you in using Bike & Bus.
• Bike & Bus racks will carry most bikes. However, tandems, recumbents, mopeds and tricycles cannot be mounted.
• Children age 12 and under must be accompanied by a parent or guardian to use Bike & Bus.
• Rack space is available on a first-come, firstserved basis. If a bus is already carrying the maximum number of bikes when it stops, you will need to wait for the next bus. CTA does not permit bikes inside buses.
• For safety reasons, always load and unload your bike from the curbside of the bus.
For safety reasons, driver cannot assist bike rack users, so you must be able to load and unload your bike correctly without the driver's assistance. Bikes are mounted at the user's own risk. CTA is not responsible for any theft or damage while bike is mounted on the rack or at any CTA facility. For more information, call 228-896-8080.
Biking and Transit … a Winning Combination!
Whether you're a serious bicycle commuter or a recreational cyclist, CTA's Bike & Bus program is geared to give you a better ride!
Now, should you ever find yourself caught in a downpour, stranded with a flat tire or need to get from one bike path to another, count on CTA's Bike & Bus program to help you go the distance.
It's a healthy, economical and environmentally friendly way to commute to wherever you need to go. Bikes and buses are both great ways to ride… We've brought them together to give you the best of both worlds here on the Gulf Coast. And, best of all, you can bring your bike with you at no additional cost.