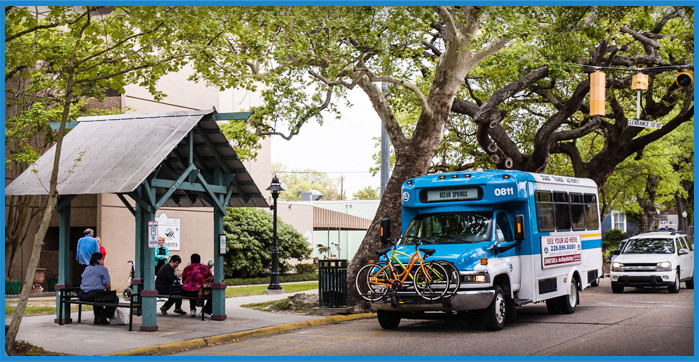 Have you heard?
If you're a senior citizen, Coast Transit can get you where you need to go for free!
We offer limited non-emergency, curb-to-curb service in Harrison County for:
• Medical appointments
• Grocery shopping trips, and
• Senior citizens' center transportation.
You can make up to three trips for medical appointments and one trip for Grocery shopping each week, depending on where you live.
Signing up is easy!
All you need to do is get certified!
Call Harrison County Senior Center at 228-896-0214. They'll help you get with the program!
And then…
Once you're eligible, it's easy to reserve a seat on the bus. Appointments can be made up to 2-weeks in advance. Just call CTA at 866-206-8843 no later than 4 p.m. the business day before you want to go. Space available service. Sorry, there is no same-day service.
You must make the appointment with one of the dispatchers at the Coast Transit office. If you leave a message on our answering machine we may not get it in time for your appointment! Also, please don't try to set up appointments through the driver.
To cancel an appointment, please call at least one hour before your scheduled pick-up time.
And it's free?
Yes, free to you. This service is provided to you with the help of special funding from Harrison County.
Regular bus fares are also cheaper for seniors!
At the Coast Transit Authority, we respect our elders. That's why we offer Discounted fares on our regular buses to all eligible senior citizens. You may purchase a Seniors Monthly Pass for $32.
Simply drop by our offices at 333 DeBuys Road (between Pass Road and the Jefferson Davis Campus in Gulfport) and apply for a Senior Citizens' Transit ID. To qualify for the card you must be age 60 or older. Your Medicare Card also works.
The transit ID allows you to ride any regularly-scheduled bus route at the reduced rate of 75 cents per fare zone…that's half off our usual price!
To get a Senior Citizens' Transit ID, just show us proof of your age any weekday between 9 a.m. and 4 p.m.
Persons who have reached 90 years of age qualify for a free ride ID. This card allows you to ride all CTA fixed routes for free.
If you present a valid Medicare card to any CTA bus driver, it will also allow you to ride regular buses at the reduced fare of 75 cents per fare zone.
The driver is not allowed to:
Go into the home to assist passengers.
Take a wheelchair off a raised porch which is not connected to a pick up or lift wheelchairs, especially when someone is in it.
Wait more than five minutes for passengers to board the bus.
Getting home's easy!
We know you can't always predict when you're going to be finished at the doctor's office or the grocery store…that's why we're flexible with our return times!
From Monday through Friday, we provide transportation between 9 a.m. and 2 p.m. All you have to do is call us by 1:45 p.m. on those days, and we'll come get you.
Be advised: If you can't complete your travel plans in time, you'll have to find another way to get home!