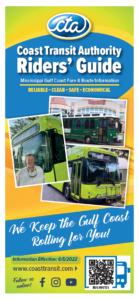 CTA's new edition of the 2022 Riders' Guide is now available on all buses, at all transit centers, and at the CTA office located at 333 DeBuys Road in Gulfport. This free publication is a comprehensive guide of all the services offered by Coast Transit Authority, including fares, route maps, and time schedules. It is published in both English and Spanish. All routes and schedules are available online at www.coasttransit.com.
This reprint of the CTA Riders' Guide contains no route or schedule changes, but it does have a new look and additional information.
For more information contact Coast Transit Authority at 228-896-8080 or visit our website at www.coasttransit.com.