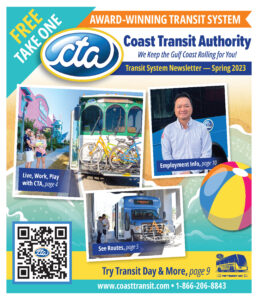 Coast Transit Authority's latest newsletter for Spring 2023, is now available at all transit centers, the Edgewater Mall bus stop, and at the CTA office located at 333 DeBuys Road in Gulfport. A digital version is also available online at www.coasttransit.com.
This free newsletter contains a note from the Executive Director, information on how to save money with CTA, route information, a CTA Tram/Pedestrian Bridge Project update, employment info, and much more. The newsletter is a great way to see the many ways you can use CTA to live, work, and play!
To request copies of the CTA Spring 2023 Newsletter or for other information, contact Coast Transit Authority at 228-896-8080 or visit www.coasttransit.com. Follow Coast Transit Authority on Facebook, Instagram, and YouTube to stay in the loop!