Gulfport, Miss — Thanks to a CARES Act grant, the Harrison County Library System (HCLS) and Coast Transit Authority (CTA) have partnered on a project providing free Wi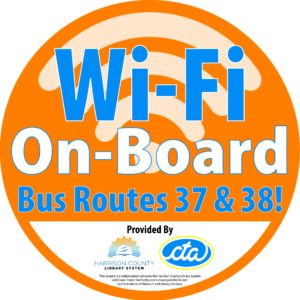 -Fi on bus Route 37 and Route 38. Starting on October 10, 2022, riders will be able to connect to the on-board hotspot during their trip.
Signage on buses will direct users to the network where they can get online while they ride. If they choose, riders can also email the library to request an ecard and check out digital books, audiobooks, and more, right from the bus.
"We are always striving to extend information access to the entire community, so we are very pleased to embark on this project with CTA. Not everyone can easily get to our branches to use our Wi-Fi and materials. CTA serves thousands of riders each day, and we hope we can connect a whole new audience to library services," said HCLS Director Sarah Crisler-Ruskey.
The project also includes an Outreach vehicle that began services in September and is part of an initiative to provide greater digital access and the ability to respond to community needs in case of potential disasters.
"We at Coast Transit Authority are always looking to the future. In addition to Mississippi's first public transit battery electric bus (BEB) launched earlier this year, we are excited to announce this Wi-Fi option on our bus routes 37 and 38 in Gulfport, included with bus fare. We are thankful for the Harrison County Library System working with CTA for this partnership, as well as the Institute of Museum and Library Services," said CTA Executive Director Kevin Coggin.
This project is part of a project funded by a CARES Act grant through the Institute of Museum and Library Services. It is a collaboration between Harrison County Library System and Coast Transit Authority.
The Harrison County Library System is the community's network for lifelong learning. Learn more online at www.harrison.lib.ms.us and connect on Facebook and Instagram! For additional information on Coast Transit Authority bus routes, fares, and schedules, call 228-896-8080 or visit www.coasttransit.com. Follow Coast Transit Authority on Facebook, Instagram, and YouTube to stay in the loop!